It's important to protect classified data with the latest technology in microshredding. While standard data destruction is part of most security-conscious shredding processes, classified data requires extra protection. Solid-state drives (SSDs), flash drives, smartphones, SIM and memory cards, and micro SD cards containing classified data will literally fall through the cracks of most data destruction and recycling equipment. Securis has the SSMD-2mm® Solid State MediaLM1 and SSMD-2mm listed on the NSA's evaluated products list.
What Does Being on the NSA's Evaluated Products List Mean?
With this listing on the NSA's evaluated products list, Securis can offer comprehensive classified data destruction services. Classified data is destroyed quickly, easily, and permanently using Securis' classified data destruction methods. Government agencies, government contractors, and highly regulated industries trust Securis to eliminate the risk of exposure.
Securis' LM-1 is a degausser listed on the NSA EPL giving us the ability to destroy classified platter drives as well.  Being able to destroy all types of classified media is important to ensure data security. Most organizations have a combination of solid-state and platter drives; each must be destroyed properly.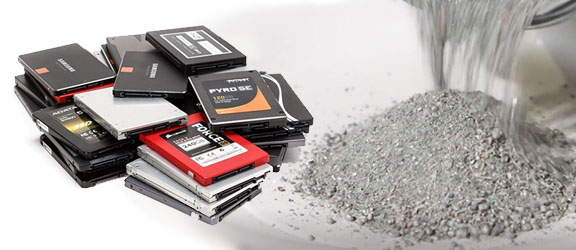 You can easily avoid a data breach with local and rapidly-deployed mobile classified data destruction services in Hampton Roads, VA, and Richmond, VA. Organizations, government agencies, and government contractors quickly and safely destroy solid-state media and optical media formats (CDs and DVDs) with the SSMD-2mm® Solid State Media Disintegrator, the latest in classified data destruction technology.
The SSMD-2mm is listed on the National Security Agency Evaluated ProductsList (NSA EPL) for Solid State Disintegrators and has passed National Security Agency/Central Security Service (NSA/CSS) evaluation for solid state and optical media destruction to a particle size of 2mm or smaller.
Classified Data Destruction & Hard Drive Shredding Eliminate Risk on:
Classified hard drives
Classified solid-state drives (SSDs)
Top-secret motherboards, memory cards, and circuit boards
Classified memory chips and thumb drives
Cell phones and smartphones used by security-cleared personnel
Top secret tablets and optical media, including CDs and DVDs
Ensure your data doesn't end up in the wrong hands with complete data destruction. With Securis' latest technology, you get peace of mind knowing that your information won't end with an expensive and embarrassing data breach.
Classified Data Destruction Microshredding