Electronics Recycling
If Your Electronics Recycling Program Isn't Secure, It Isn't Responsible.
Your intention, of course, is to dispose of your decommissioned, retired or unused electronics, IT assets and electronic waste in the most environmentally responsible manner. You need a provider with the proven expertise, processes and track record to ensure your e-waste ends up where it is supposed to—not in a landfill or overseas.
And, you want to ensure that you meet the necessary federal regulations and state and local laws for proper e-waste disposal. You want to do what's right when it comes to electronics recycling and local computer disposal, and we want to help.
From your data center, server room or employees' desktops to our facilities, Securis ensures that the IT recycling process is secure, convenient and compliant. We offer a complete, end-to-end process that includes:
IT Asset Auditing & Reporting
Secure Chain of Custody
Certifications & Compliance
Let's work together to keep you responsible, compliant and green.
Securis Electronics and E-Waste Recycling Services Are:
Zero Landfill
At Securis, 100% of each electronic asset entrusted to us is recycled properly. Absolutely nothing is left to be disposed of in a landfill. All recycling is processed domestically to ensure the highest level of security for your organization.
Zero Export
Securis does not export any electronics to developing countries and continents such as China, India and Africa. We process all of your e-waste properly through local channels. You don't have to worry about a long supply chain or areas where you don't have clear visibility for your e-waste removal and recycling.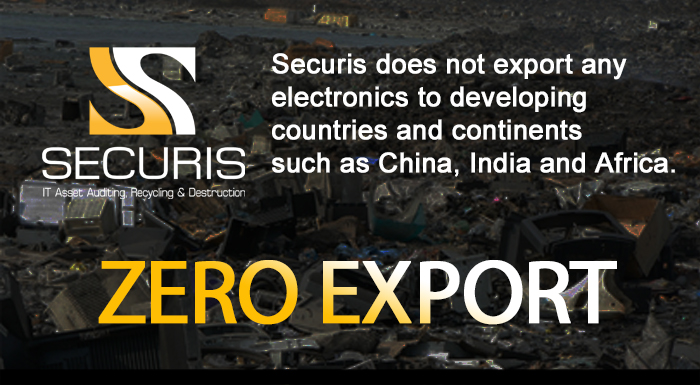 Certified and Compliant
Securis has its AAA Certification from the National Association for Information Destruction (NAID) for both its plant-based and mobile operations. In addition, we are certified by the Defense Logistics Information Service to store and transport military critical technical data. Our certification number is 0051653 and expires March 1, 2024.
We're happy to provide you with any more information you need about our certifications. Just use the contact form on the side and request any information you'd like us to supply. We look forward to hearing from you.
Securis E-Waste and IT Recycling
Drop offs — call (866) 509-7250
Certificate of Recycling and Destruction
Collection bins (extra accommodation for special circumstances)
Scheduled pick-up
Recurring Pick-up times
Scanning for inventory recording and asset tracking
Weight reporting
LEED project reporting
Count of IT assets
Securis Staff Security
Background checks
Fingerprint records
ID badges
Significant training
Lead security technicians
2-way mobile communication devices on throughout the process
Drug tests on all employees
Securis Process Security
Secure storage and transportation bins
Locked truck
Scanners used to record serial numbers for inventory
Asset tagging for tracking of equipment without serial numbers
NAID Certified for mobile operations
Attend to media to be destroyed at all time
Customers receive certificate of destruction
Securis Facility Security
Camera surveillance
Secure access controls
NAID Certified plant
Escorts for visitors to the plant
Dedicated area for processing and destroying
We know security is a major concern for all e-waste recycling and local computer disposals. Securis is here to answer any questions you have and assure you that we're completely compliant with all local, and federal laws.