E-Waste Recycling for the Community with WUSA9
We were proud to participate as the e-waste recycler for WUSA9's #RecyclingMatters events this weekend. On Saturday, February 26, 2022, in just three hours at three different locations, these events kept more than 60,000 pounds of paper, 95,000 pounds of electronics, and 10 tons of paint from contributing to rapidly growing landfills. Processing this much e-waste recycling in a single morning is impressive – even for Securis.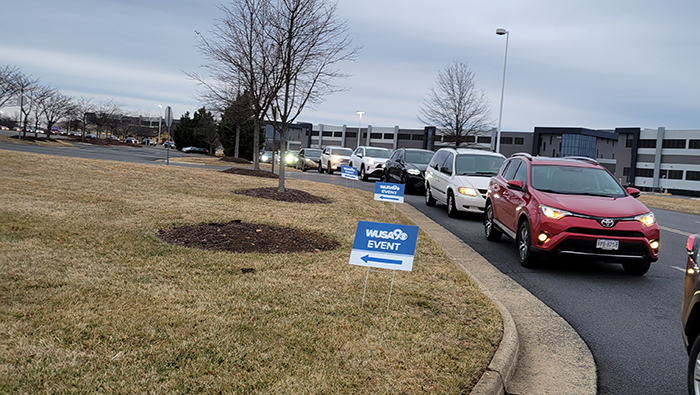 Community members lined up to bring old computers, keyboards, monitors, and other electronic devices to safely and securely dispose of them. Instead, the 95,000 pounds of electronics that will not go to landfills will be refurbished and reused or recycled for parts.
Securis utilizes all aspects of proper e-waste recycling once receiving your end-of-life electronics. Ideally, the first step is to be able to reuse electronics, according to the EPA. After properly destroying any data we try to refurbish, reuse, or resell before recycling for any parts.
Up-use and proper e-waste recycling are beneficial to the environment. The processes keep harmful materials such as arsenic and lead from seeping into the earth and eventually into our water sources. Securis collected an estimated 75,000 pounds of e-waste recycling at two of the locations.
Recycling that much waste saves:
349 trees
2,052 gallons of gasoline
20.5 metric tons of greenhouse gas emissions
143,500 gallons of water at just one of these events.
E-Waste Kept Out of Landfills and Data Security
Not only does Securis keep recyclable materials out of landfills, but keeps your data safe by properly destroying it. Using certified data destruction services like degaussing and shredding, proper physical destruction of materials keeps your confidential information and data safe. Throwing away e-waste will not only damage the environment, but it puts your sensitive data at risk.
"Run very efficiently, especially given the large response." – Lee N.
Many participants noted that they spent the past two years clearing out their houses while stuck inside due to Covid-19. This event gave the community the chance to properly dispose of hard to recycle electronic equipment they found while cleaning.
"Outstanding event …. workers were extremely pleasant, jovial and courteous …. logistics wonderful ….got on long line but moved quickly. Thanks so much for this Public service!" – Tom H.
WUSA9's meteorologist Kaityln McGrath researched a story on the importance of electronic waste recycling. She visited the Securis warehouse with her team to show the process of data destruction and e-waste recycling.
Securis is proud to offer a monthly recycling program for electronic products on the second Saturday of every month. Our services include electronics recycling and shredding trucks for proper asset disposition.