Posted Jan 10th, 2017
What Happens to Data When You Recycle Electronics and Hard Drives?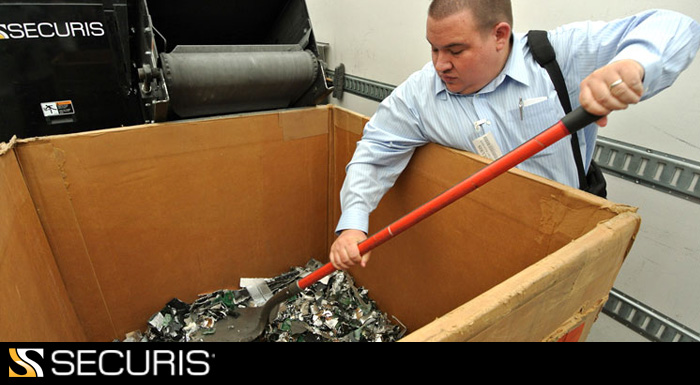 So, you've got some old computers, hard drives, and maybe a server or two that need to go. Those shiny new replacements are humming along, but you're a bit nervous about handing off your equipment to some recycler because you've got company and customer data in there.
We get it, and you're right to be concerned about data safety. Here's how we at Securis handle your sensitive equipment and what we do (and don't do!) with all the data on your old devices.
We Start by Getting Everyone to Think
It's environmentally important, and sometimes required by law, for you to dispose of and recycle old electronics and computer equipment, and there are many companies or local counties that make it simple for you to recycle your old equipment.
When you're getting ready to recycle, start by thinking about what's on all that equipment, stored in hard drives even after you hit delete. It takes specialty equipment to actually get rid of all your data and remove any possible way to retrieve your records.
If you don't make sure someone is using the right equipment, your data could go out into the world. Is that something you're comfortable with, or is it something that would anger your customers?
Don't Trust the Digital Recycle Bin
Transferring personal information or important files to the Recycle Bin does not delete them. It merely tells the computer to overwrite them when necessary. So, your computer has this information available for much longer than you think – we've even seen old data from months or years available through simple computer forensics.
So, before you take your old computer to a computer recycling event, take the time to properly copy your data and find a partner who can properly dispose of your data.
Permanent Destruction of Data
Securis disposes of your equipment in a way that permanently destroys the data using degaussing, hard drive shredding, or a combination of the two.
A thorough degaussing of your equipment essentially scrambles the magnetic memory common in today's hard drives, smartphones and more. The magnetic fields a degausser generates can completely destroy the data you have stored and they will also make it impossible for anyone to use the drive again.
Whether equipment is degaussed or not, Securis provides a complete shredding of your hard drive as well as solid state drives and other equipment that could store information. We shred equipment into small parts that are no longer able to be used elsewhere and are only good for breaking down into their base components and metals.
Think of it as metal confetti.
The good news is that almost all of the metal pieces generated by shredding computer equipment and storage devices is recyclable. We can take care of that entire process for you, making your day even easier.
Always Ask for an Audit
The final piece we want you to think about for data destruction is the audit process. Without an audit, you can't be sure that your IT assets are disposed of properly and in a way that ensures data is destroyed.
Securis provides a complete audit and reporting service that enables you to prove to senior managers, inspectors, regulatory officials, and clients that your data has been destroyed completely.
Here's what our process looks like:
All items enter Securis' chain of custody and are tagged with an internal barcode, inventoried, and stripped of any previous identification.
Serial numbers of processed and destroyed items are recorded by Securis' proprietary data collection software and handheld scanners for multiple data sets for your audit and accountability review.
An inventory list is provided to you along with a Certificate of Recycling and Destruction. This is a nationally recognized legal document of performance.
All inventory information is stored on a secure server for our customers indefinitely unless otherwise directed.
That way you can be sure that your data is destroyed thoroughly and it won't come back to bite you. Ready to get started or have a few more questions? Contact us to learn more today.