CHECK OUT OUR EVENTS
For more information on the next e-waste recycling event near you, click on the location closest to you below.
Be sure to take a moment to review each of the location lists for items that are accepted and which items require a fee to recycle.
E-Recycling in Loudoun County, VA
October 29 @ 9:00 am

 – 

3:00 pm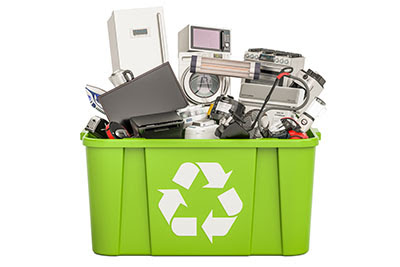 The Loudoun County, Virginia Electronics Recycling Event will be held on Saturday, October 29, 2022.
Location: 19730 Sycolin Road, Leesburg, Virginia 20175
See Securis' list of acceptable items and fees (also listed below).
Please read the entire page prior to coming to an event. Some items are not accepted at all, and other electronics may require a fee to recycle.
Free To Recycle:
Answering Machines
All types of Cables
UPS Batteries
Camcorders
Duplicators
Lab Equipment
Laptops
Laptop batteries
Printers
Printed Circuit Board
Radios
Telecom Equipment
Telephones
Testing Equipment
Toasters
UPS – Power Supplies
VCRs
Cameras
Compact Disc Players
Computer Equipment
DVD Players
Electric Typewriters
Electric Motors
Electronic Gaming Systems
Fax Machines
Mainframe Equipment
Microwave Ovens (without glass trays)
Modems
Motherboards
Routers
Scanners
Smart Phones
Speakers
Stereo Components
Transparency Makers
Two-Way Radios
Computers
Computer Speakers
Copiers
Cordless Telephones
Cords
Keyboards / Mice
Household Electronics
Hubs
Networking Equipment
Nintendo Game Systems
Pagers
PCI Cards
Stereos
Switches
Tape Players
Wii Game Systems
Xbox Game Systems
Word Processors
Holiday lights
Other Electronics
Electronics that Require a Fee to Recycle:
Hard Drives – $4.50 if removed (special discounted price for Loudoun County)
Hard Drives – $20.00 if not removed from the unit
Monitor (CRT or LCD) – $10.00
Cell Phones and Tablets – $10.00
Console Televisions – $50.00
Note: No cash or checks, please. Accepting credit or debit cards only.
Unaccepted Items:
Alkaline batteries
Ballasts
Glass (We will accept Cathode Ray Tubes (CRTs) and TVs)
Light bulbs (other than holiday lights)
Fire Detectors
Thermostats or other mercury-containing devices
Items that contain Freon
Any fossil fuel or materials used in collecting fossil fuels
Any infectious or biological wastes or equipment that contained them
Media contaminated with oil
Any liquid, chemicals, oils, or powders
Equipment that contains chemicals of any kind
Equipment that contains asbestos
Equipment that contains radioactive components
Fluorescent light bulbs
Microwaves glass plates
PCBs
Aerosol
Equipment that contains mercury
Any materials that would adversely impact our operations or result in environmental or health problems