Securis' secure and environmentally sound solutions for the effective management and removal of any government agency's end-of-life electronic assets are certified to meet or exceed all National Security Agency (NSA) requirements.
We provide the highest standard of service to all U.S. Government agencies wishing to responsibly dispose of their end-of-life or obsolete devices, while simultaneously maintaining the highest level of data security through our unique end-to-end data destruction process.
Securis also holds a contract with the Federal Government under General Services Administration (GSA). The schedule is 36 and our contractor number is GS-03F-0068V. This contract is for on-site and off-site shredding services, degaussing services and IT asset recycling. We are certified by the Defense Logistics Information Service to store and transport military critical technical data. Our certification number is 0051653 and expires March 1, 2024.
Securis' data destruction services provide peace-of-mind—information destruction methods are in complete compliance with HIPAA, FACTA, Gramm-Leach-Bliley and various other state and federal compliance measures. Securis guarantees complete physical and/or electronic destruction of your data. First, all electronic data is rendered irretrievable through the process of degaussing; following this, data storage devices can be completely shredded and ultimately destroyed. Securis has the capability to handle any quantity of hard drives, back-up tapes, CDs, cell phones, PDAs, memory devices and x-rays.
Degaussing
While degaussing services are not necessary for every situation, sometimes they are required as part of the secure destruction process by Federal Law. Classified information often requires the process of degaussing followed by physical destruction in order to ensure all critical information is declassified.. Securis uses an industrial degausser that is approved by the National Security Agency, National Institute of Standards and Technology (NIST) Special Publication Series 800-88, and The Department of Defense. Degaussing services can be done on-site at a customer's location or off-site at Securis' NAID certified facility. Read more about degaussing.
Hard Drive and Electronic Media Shredding
Shredding electronic devices has quickly become the standard for secure destruction. Securis can shred your hard drives, backup tapes, cell phones and any other data storage device on-site or off-site depending on your requirements. On-site service allows the destruction process to be witnessed and eliminates the chain of custody. Off-site service provides a cost effective way to utilize our destruction services. The shredded material is transferred back to our secure facility.
The shredding process is similar to shredding paper. We have an industrial shredder that can grind down all types of data storage devices to any size particle. Once the devices have been shredded, the residual material is domestically recycled and refined. Read more about our data shredding services.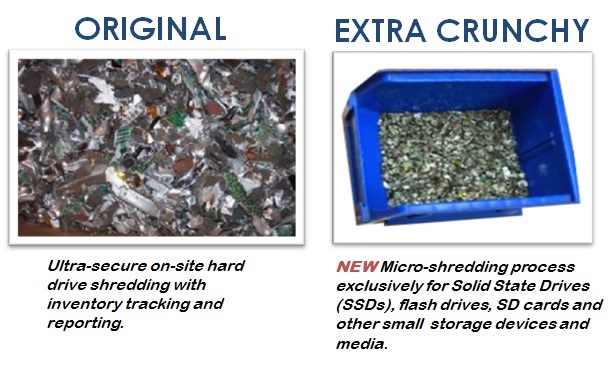 Solid State Drives (SSDs), flash drives and micro SD cards can literally fall through the cracks of most data destruction and recycling processes.  To ensure absolute destruction of smaller devices,  Securis has added a "micro-shredding" option that goes beyond traditional shredding and pulverizes devices into 2MM e-crumbs (shown in the photo on the right).
Compliance
Both our on-site and off-Site service options are fully compliant with all National Institute of Standards and Technology (NIST) Special Publication Series 800-88 and National Industrial Security Program (NISP) Operating Manual (DoD 5220.22-M). Our destruction services can be tailored to meet the needs of any destruction standard, from basic destruction to the highest-level classified material.
Securis is certified by the Defense Logistics Information Service to store and transport military critical technical data. Our certification number is 0051653.
Securis is R2 certified, having passed rigorous audits by an independent third party to evaluate recycling practices in more than 50 areas of operational and environmental performance.  R2 is the leading standard for the electronics recycling industry, ensuring practices that protect the environment, human health, safety and the security of the recycling process.
Securis is a member of National Association of Information Destruction (NAID) and has AAA Certification for both its mobile and plant-based operations.
All Securis employees undergo extensive background checks, are U.S. citizens, must accept and sign a non-disclosure, confidentiality agreement and participate in ongoing training on security procedures.
Past Performance
Securis has been recycling electronics and destroying data for almost 20 years. We have an extensive reference list of local, state and federal agencies for past performances purposes. We also work with some of the largest federal government contractors in the world to provide secure destruction and recycling services as a sub-contractor for large-scale Federal IT contracts. We can provide details on our past performance upon request.
Auditing and Reporting
An inventory list and Certificate of Data Destruction, signed by a Securis officer, are provided to each client at job completion. This Certificate is a nationally recognized legal document of performance. These documents are each customer's assurance that all items entrusted to Securis are in fact destroyed in the contracted manner. This documentation is your tangible proof of a job well done and can also be used for audit purposes.