How Securis Identifies Employees who Lead, Thrive, and Innovate
At Securis, diversity isn't just a buzzword. It's a core company strength. It's an acknowledgment that while people come from many different walks of life, there are more common values that bind and connect us than divide us. When it comes to how Securis identifies employees who lead, thrive, and innovate, there are several key factors.
Diversity is a Core Company Strength
"I love seeing people from different backgrounds working together to achieve shared goals," says Jeremy Farber, founder and CEO of Securis. "If you've never witnessed a native Arabic speaker try to explain something to a native Spanish speaker who doesn't speak much English, and are able to watch them work together to move forward, bearing witness to the moment it clicks is priceless. It doesn't simply help two people solve a problem or work smarter together, it forms a bond that extends way beyond just a 9-5 job."
Those who thrive at Securis don't see this as just a job. They see their roles as a career and an opportunity to achieve the American Dream. Many who began in the warehouse as hourly workers have advanced to senior members of the Securis management team.
"Aligning to our Core Values is one thing we look for, but another key factor is if people are looking for just a paycheck or really want a career," says Presson. "We're looking for people who want a career, who want to look for opportunities to contribute to the growth of the company. Having people who want to be here and genuinely care about their coworkers makes all the difference in fostering a positive work environment for everybody." In fact, the managers of the Service, Shipping, and Disassembly divisions all began as hourly warehouse workers and were able to advance.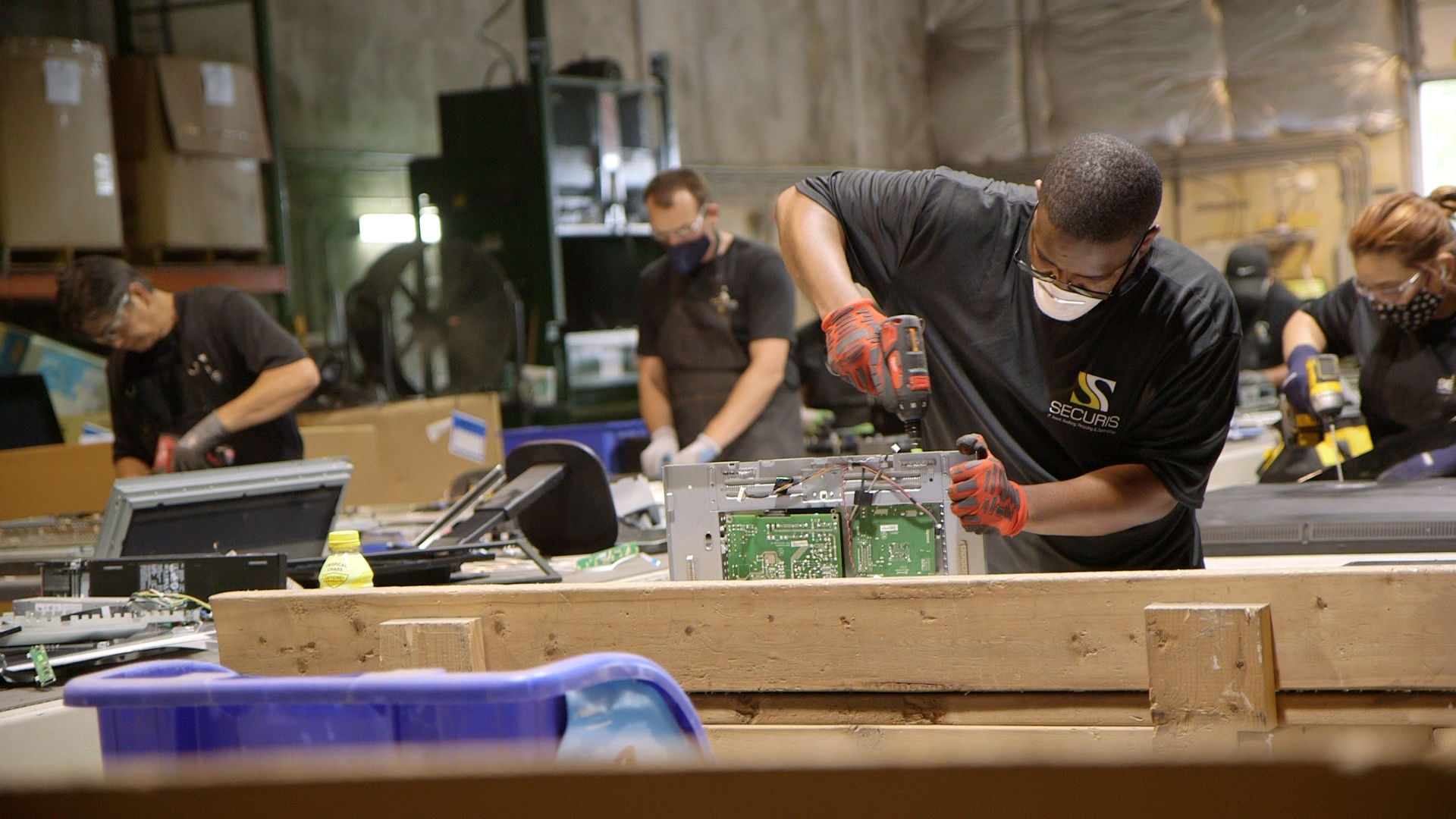 "I can teach skills. I can teach how to do something," Teresa says. "I can't teach personality, attitude, or drive. That's why during the interview process, I'm more concerned with someone's attitude and how they interact rather than if they look good on paper."
"Part of it's nature and part of it's nurture," Jeremy explains. "Teresa and her team do a great job finding the right people to fill vacancies. But then, even if people aren't quite a perfect fit, when they get into the office or the warehouse, and see how well everybody's working together, and how open everybody is, and how much fun people are having, it's infectious. People want to be in that sort of environment, and to contribute to it."
"Our team has a low turnover rate – especially for warehouse work," Teresa says. "Our commitment to our team and our core values means people grow and thrive here, and our clients want to keep working with us over the long term."
Throughout Securis' offices and warehouses – the headquarters in Chantilly, VA, and regional offices throughout Virginia and North Carolina – the company's core values are displayed prominently.
Securis' Company Core Values
Helps First – Put the team first
Fun- Have the right attitude and stay positive
Hungry – Have big goals and want to conquer the world
Humbly Confident – Be humble, but be confident also
Work-Life Harmony – Both are important but must be in balance
Coachable- Always be learning
Innovative – Nothing's carved in stone, Question everything, Look for new ways
When hiring staff – be it a C-suite executive or an intern – Securis works hard to ensure that the new team member will be a good fit and live up to Securis' core values. Using that benchmark as guidance, Securis has been able to create and foster a caring, familial environment that celebrates diversity, creates opportunities for all employees, and provides a safe space for employees of all backgrounds.Are you or someone you know looking for a career in a dynamic, enriching environment like Securis? Check out our current openings and see if a career at Securis is right for you.