What is a Certificate of Data Destruction?
A certificate of data destruction and recycling proves that data on retired electronic equipment was destroyed to NAID standards. Securis provides them to our clients for their IT-asset auditing purposes. 
Securis is a classified data destruction service for both on and off-site destruction services. This certificate is a legal document of performance that can be used for auditing. This is a need for many local municipalities, federal agencies, and other compliance standards.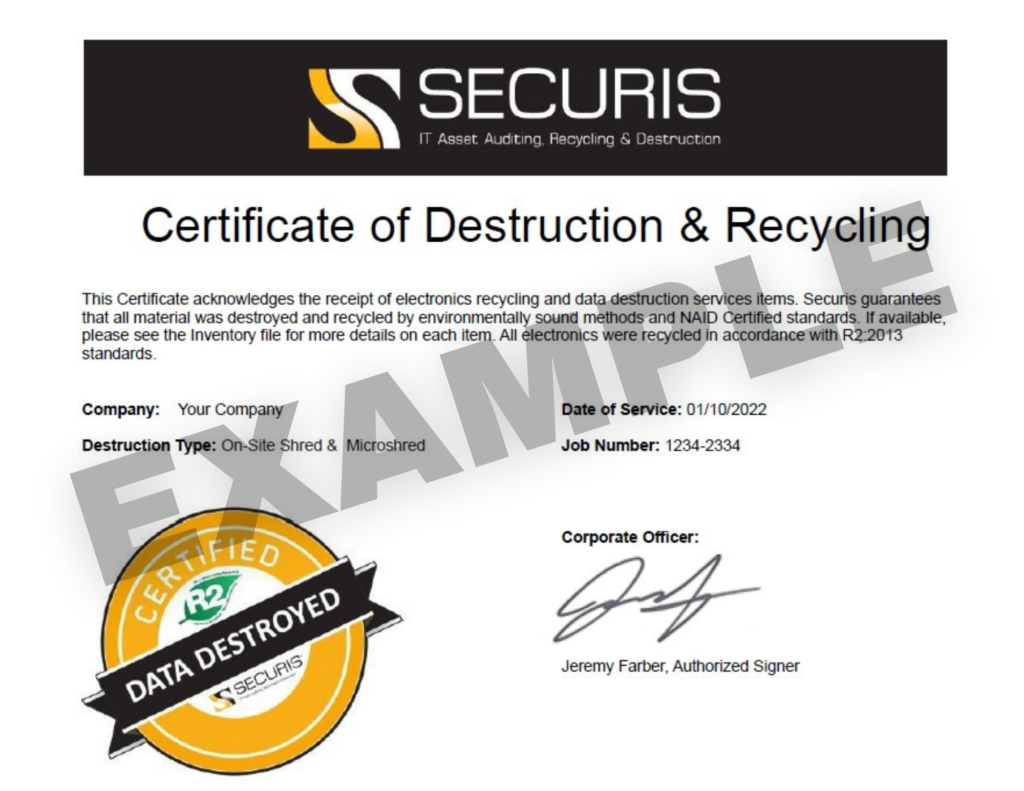 Securis' data destruction and e-waste recycling services ease your burden by providing a fully audited, managed, and secure computer and data destruction program. We meet the requirements required by the Department of Defense, the National Security Agency, and the Defense Logistics Information Service.
When you choose Securis, you choose security. We process your data with your security and protection at the forefront of our minds. Our storage bins and trucks remained locked throughout the collection process. This prevents access to your end-of-life technology prior to destruction.
When equipment arrives at our facilities, we scan each individual asset and inventory all of it. If any of the equipment does not have a serial number, we tag it to keep a record. We use a proprietary data collection software and handheld scanners for audit and accountability purposes.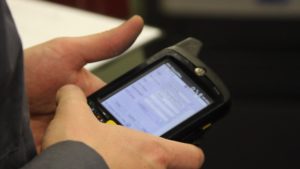 No Third-Party Data Access
We provide you with a full inventory of everything given to Securis without any third parties having access to your records.
This information is stored on a secure server indefinitely unless specified otherwise. 
After that, your sensitive data is destroyed in an agreed-upon way, be that on-site, off-site, degaussed, or shredded. Through the data destruction process, we take extra steps to ensure that all data is wiped to ensure your data security. We will provide a certificate of destruction for your electronics once the data has been properly destroyed. This applies to both large projects, like data centers, and smaller projects, like hard drives and SSDs.
We understand that you may need to see the physical destruction of your e-waste. This is why we developed the ability to either shred or microshred your equipment on-site with mobile shredding. 
Microshredding destroys physical equipment by pulverizing it to less than the NSA recommended 2mm particles. This is especially beneficial for smaller items that cannot be degaussed or destroyed with a standard hard drive shredder. 
If you don't need to see your equipment destroyed, we can provide the same services off-site at our facilities. Either way, after the completion of your project, a certificate of destruction can be issued for your auditing purposes. 
We know how important it is to properly destroy any confidential information that your company may collect. From HIPAA violations to government secrets, we know that information needs to be protected which is why our services exist. This certificate of destruction can protect you from any liabilities where these may be of concern.