Since the beginning of the COVID pandemic, many health care organizations have been pushed to the brink. They're at capacity and low on essential supplies. And yet, those who work in healthcare continue to perform their heroic work saving lives.
While healthcare organizations continue to serve the public during this crisis, Securis is proud to work with many of these organizations, ensuring that they're able to destroy sensitive data housed on their hard drives and other equipment. This helps keep them in compliance with HIPPA guidelines and gives peace of mind that data cannot be leaked due to Securis' stringent destruction standards.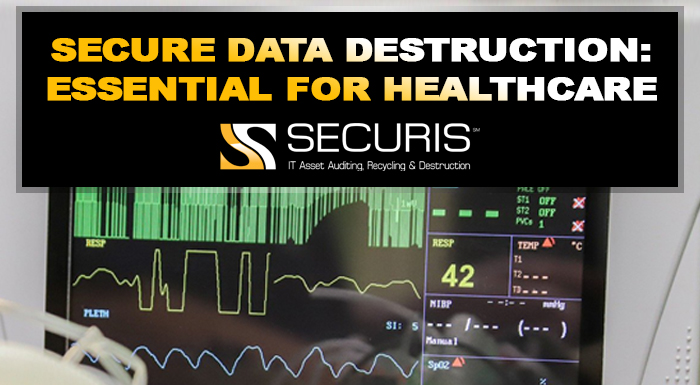 "Some of our best relationships are with healthcare organizations up and down the mid-Atlantic," says Dan Mattock, Securis' EVP of Sales and Marketing. "They know that we will securely, discreetly, and effectively destroy their old technology and data assets in a way that is unparalleled in the industry. We are well-aware of the value and sensitivity surrounding the types of data healthcare organizations need to access daily. More importantly, we know how to effectively dispose of that data so it can't be hacked or leaked while maintaining their compliance with all relevant privacy laws."
Securis is an essential business service for healthcare. Simply put, they need a trusted partner that not only meets – but exceeds – data destruction standards.
"There's no shortage of businesses out there that will talk a big game to win your business but are lacking in either the chain of custody or in particle shred size," says Mattock. "We are different. We give our partners visibility into what's being destructed and how. We maintain a rigorous audit trail. We have the ability to degauss hard drives and can shred to a stringent NSA standard. That's why so many healthcare companies see us as a trusted partner to secure their data."
With COVID still top-of-mind, many healthcare providers face an influx of data due to the increase in testing, vaccinations, and routine visits. It is because of this reality that more organizations are seeing data destruction as an essential service.
"Let's face it," explains Mattock. "If someone makes an appointment for a COVID test, they don't want that information to fall into the wrong hands. Patients assume that that information will be safe and secure. Too often, it isn't. With Securis, you can rest assured that this type of data is fully erased and hard drives are thoroughly destroyed."