When his family threw out an old microwave, eighth-grader Eric Akers figured there must be a better way to get rid of old electronics. Concern for the environment and his future led him to Google, where he researched electronics recycling and available options. He wondered where that old microwave could have gone rather than ending up in a landfill.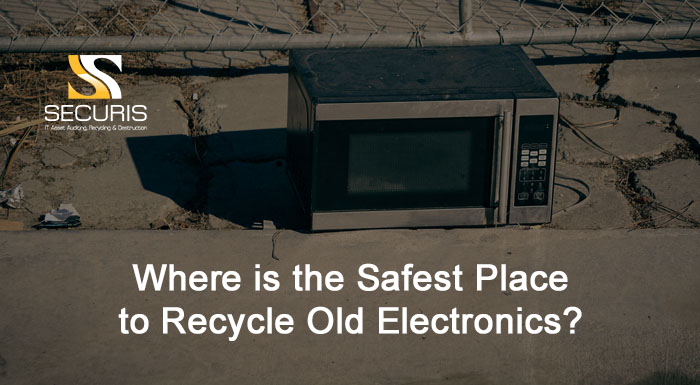 Eric's search led him to Securis, where he learned about Securis' monthly electronic waste recycling event. He found the event nearest him, located in Northern Virginia.
Eric decided to help his neighbors bring their end-of-life electronics to Securis for recycling. He knew right then how he could help his neighborhood, the planet, and meet the requirements for his J.L. Simpson Middle School National Junior Honor Society project, which was happening during the same time.
Through his neighborhood's and school's Facebook groups, Eric began to figure out how to best collect the most end-of-life electronics. He wanted to make a big impact and keep retired computers and other e-waste from seeping harmful chemicals into the earth.
To make it easy for nearby schools and communities, he placed a box on his front porch. He was pleased to see how quickly it was filled. His efforts were so popular that neighbors were calling him to make sure he still wanted their unusable electronic devices. He did want them.
During the month leading up to Securis' IT recycling event, Eric continued to collect old computers, phones, wires, and other electronic products from his neighbors. At first, he tried to keep an inventory of everything that he collected. After receiving 184 cords, he lost track of what was being dropped off and focused on the fact that people were participating in his e-waste recycling initiative.
When the time came, Eric and his family packed the bed of his dad's truck with the e-waste he'd collected. They brought all of it to Securis to properly recycle. His recycling project included a wide variety of items like computers, phones, wires and cables, speakers, DVD players, and other electronic equipment. Holiday lights were even included in Securis' list of acceptable items for the community electronics recycling event.
Securis is thrilled to see initiatives like Eric's recycling project, a mission we're passionate about. Our younger generations are sure to continue with a commitment to environmentally-friendly recycling. These events help to protect our natural resources.
Many electronics recycling companies don't guarantee the safety of the data remaining on old devices. Secuirs' mission is to protect data. In addition to aiding in environmental protection, Eric's project helped keep his neighbor's personal information safe!
Securis offers monthly events for communities to properly dispose of their old and unused electronics. If you'd like to set up a pick-up for your community, please fill out our form to get more information.