For businesses, when times are tough, they look for every income stream possible. When times are booming, smart businesses continue to look for every opportunity to increase revenue. Lessons learned during difficult times can often transfer over to better times and provide a necessary cushion during the next downturn. Recycling technology assets should be considered a business revenue stream.
One such practice every business should adopt is recycling its outdated and obsolete electronic equipment. Electronics recycling is the better choice for the environment. There's also money that businesses can reap from their old machines. Even when times are good, why wouldn't a business recycle old electronics and receive money for technology assets?
"Most employees don't think about what happens to their old electronics," says Laura Ware, Vice President of Enterprise Sales at Securis. "There's no blue bin under their desk to toss old laptops in. If companies aren't recycling their old equipment, they're missing an opportunity."
According to a recent report by the United Nations, only about 17% of e-waste is recycled annually. That waste includes toxins and heavy metals that are major pollutants. It also includes valuable, reusable resources such as gold, glass, copper, and silver. In fact, studies suggest that $60 million in gold and silver is thrown out with old cell phones every year.
Recycling Technology Assets = Money From Old IT Equipment
"What's staggering to think about," Laura continues, "is how much money is thrown away when companies don't recycle e-waste. If businesses baked in the nominal costs of recycling equipment, they could add a nice cushion to their bottom line."
Businesses and governments that practice IT recycling continues to grow, but there's plenty of room to improve. There is tremendous room for growth and environmental stewardship on the corporate and government levels.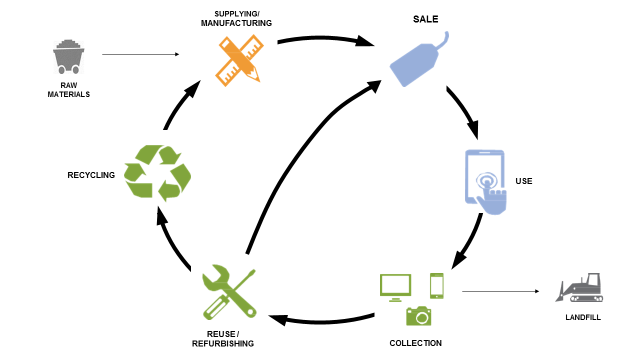 The EPA's Life Cycle Stages of Electronics. Securis can be your trusted partner for collection, reuse/refurbishing, and recycling.
Looking to start recycling your company's old machines? Make sure you partner with a reputable, certified e-waste recycling partner like Securis. According to the Environmental Protection Agency, certified recyclers, "have demonstrated to accredited, independent third-party auditors that they continually meet specific high environmental standards and safely manage used electronics."
Securis holds multiple certifications from multiple independent organizations. Organizations concerned about the environment will benefit from choosing Securis for their data destruction and e-waste recycling program. Not only does nothing end up in a landfill, companies and government agencies and contractors make money from old IT assets.