Proper disposal for government contractors is vital for federal compliance. Different businesses and data centers may have varying regulations regarding data destruction. Securis has been in the business of data destruction for more than 20 years. 
The Securis degausser is on the NSA-evaluated products list as an appropriate method of destruction. Our degaussers are NSA-approved and mobile so that we can destroy data on-site. Degaussing is the only federally approved method to sanitize classified and top secret level information.
The degausser uses a magnet to change the data that is stored on magnetic storage devices, making it unreadable. This can be used on items like hard drives, DLT tapes, cassettes, and more. The process renders hard drives unusable since it completely wipes the stored data. 
For sensitive data, degaussing is often followed by the physical destruction of your company's data-containing devices. Going the extra step to shred your equipment guarantees further and complete destruction. A degaussed hard drive looks the same as a perfectly intact hard drive. Shredding the material after degaussing ensures that everything is properly disposed of. 
We also provide a certificate of destruction for auditing purposes. Whether we degauss your equipment on or off-site, we will provide this certificate for your records along with an audit-ready IT equipment inventory list.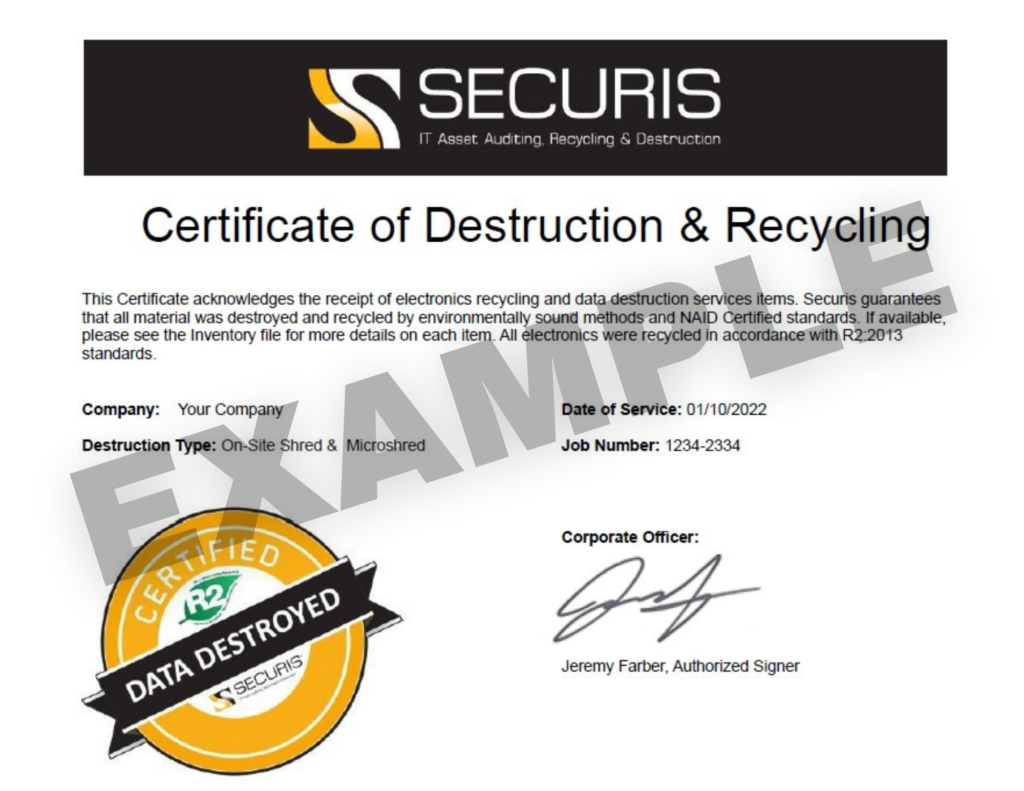 Additional Security Measures to Protect Classified Data 
To protect classified data, all of our employees go through background checks. They're completed upon hiring and repeated every three years of employment with Securis. We want to ensure that your data is secure every step of the way. 
Securis is compliant with all federal, state, and industry regulations. Click to see our certifications and compliance list.
Securis is committed to protecting the chain of custody. All vehicles have GPS tracking and intrusion protection reinforcement. 
If you need to see your hardware destroyed, no problem. If you need to sign off to have one of our employees witness it and provide the aforementioned certificate of destruction, we can do that. We're here to help you do what is best for your organization's needs when it comes to data destruction!